Mike Varley 2020
March 19th, 2020 by admin
Five and a half years can go by pretty fast, can't it? It's not a lack of content that has kept me from updating the site, but rather a diversification of effort.
Back in November of 2013 I began a job at the NY branch of video game developer Avalanche Studios. During that time we produced two AAA video games – Just Cause 3 and Just Cause 4.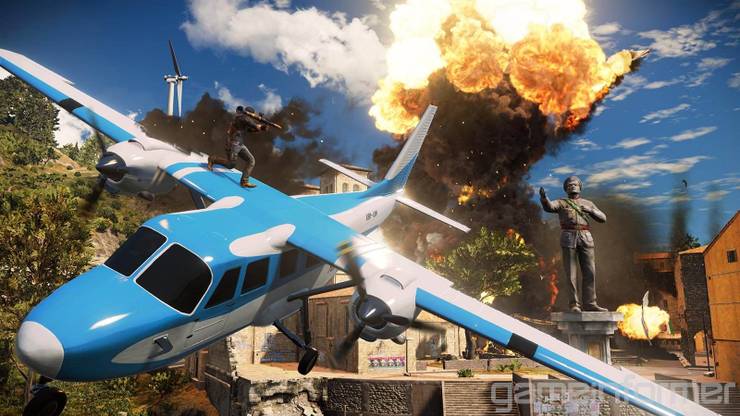 My responsibilities were unique to each project. On JC3, I started out in screenshots and video capture, which means I helped generate all the content for magazines, conferences, YouTube advertisement and in-game menus. I also did a fair share of writing for the project and was credited accordingly.
Towards the end of JC3 and fully on JC4 I transitioned to the Production department. My responsibility was that of Outsource Manager, managing all the external relationships necessary to ship the game. This included Concepting, Characters, Vehicles, Weapons, Environment Art, Animation, Audio, Cinematics, Contractors, Music Licensing, and much more. I learned the legal side, the budget side, the pipeline side and the soft skills side. I couldn't have asked for a better environment to learn how to create at a global scale. The experience I gained at Avalanche will stay with me my entire life.
Despite my busy work hours, I did manage to keep up on the personal creative ambitions. I've continued to make a mask a year for Halloween and am approaching my 10th year at the practice. You can find a gallery of them here.
In 2015, a group of friends and I developed a sketch comedy group called "Good Clean F—." The show ran two seasons of sketches and ended up appearing in seven different festivals. You can view the sketches at the corresponding YouTube page.
Following the sketch show and deep into Just Cause production support, I wanted a creative project that involved total autonomy and no obligation to be anything beyond itself. This led to "The Love Method," a feature-length script I wrote over the course of a year+ during weekends and night hours at Avalanche. I told no one except my partner Jessi about the script as it was being written, not wanting to compromise its true purpose – a creative exercise free from the burden of expectation. It exists now in a sharable for for anyone who'd like to read it, along with a shorter look book version. Reach out if you're interested in learning more.
This brings us to the present day. As the beginning of this posts suggests, I am no longer affiliated with Avalanche as of a week ago. I've left to once again pursue more independent ventures, this time joined by my partner Jessi Highet. As of tomorrow, we begin "2020: Total Clarity," a multi-disciplinary art project with a focus on New York City and human endurance. Its aims are too elaborate for this post, but you can read all the details at highleyvarlet.com
In its nearly 15 years, this site has gone from slick blog to outdated website to mid-2000's time capsule. I don't have nearly as much hair as that top left icon indicates and broken plug-ins litter the site. But for the time being we'll keep this place as is. There's still a lot of good content for the curious, and it matches my general affinity for all that is old and musty.
For everything cutting edge, check out Highley Varlet on Instagram and YouTube. Thanks for taking the time and catch up in a few more years.
Regards,
Mike